Shadowmere is a demon horse. It has been the goal of Fün's to obtain him since "Quest For The Demon Horse Shadowmere" , her first appearance, and the reason why she joined the Dark Brotherhood.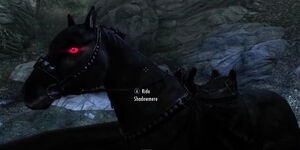 Fün
implanted a flux capacitor in to Shadowmere's ass. Therefore when she's hit with a 1.21 jigawatts spell, she is able to function as a time machine.
Transfer of ownership to Crotch
Edit
Shadowmere is given to Crotch Guzzler when Fün Tits asks him to revive Astrid and retrieve her from a cave. Crotch Guzzler thinks this is very nice of her. Fün Tits has Arvaak, however.
Community content is available under
CC-BY-SA
unless otherwise noted.